Coyote Recordkeeper
Fully-Featured Customer, Contact and Inventory Management Software for Small Business and Enterprise
Manage Your Business Data with one powerful application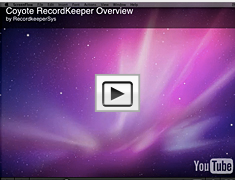 Coyote Recordkeeper handles all of your business data with ease. Coyote is an incredibly fully-featured Customer Relations Manager (CRM) integrated with complete inventory management, business contact, bookeeping, and reporting tools. There is no need for multiple software titles, or for reporting and tracking other data in spreadsheets or by hand. Coyote offers one-stop storage and linking of all your data needs. Coyote can handle millions or records about any type of business inventory and the associated business contacts, vendors and staff. We can also integrate Coyote with mySQL and front-end web components to provide online secure shopping carts, eCommerce solutions and more.
Coyote is cross-platform—for either Mac or Windows. Powerful features include a contacts manager, Sales, Inventory, POS, Purchasing, Shipping and Receiving, vendor management, client contacts, and employee HR. Every Coyote module has been designed and engineered to integrate seamlessly with the others, allowing you to control your business information in one place. Coyote includes detailed reporting functionality which you can use to present, print, export, email, or communicate to your staff, vendors, or customers. Coyote includes over 200 reports already configured and ready to use.
Coyote Recordkeeper handles backend sales including invoicing and payments with our optional QuickBooks interface. While other products don't integrate fully with your sales functionality, Coyote integrates vendors, purchasing, inventory, sales, POS, and reporting as well as syncs back and forth with QuickBooks.
Coyote is fully-customizable. "If it doesn't do it your way; it soon will!" Our custom programming is affordable and keeps your business keeps--or gets--your business running the way you desire. Never again ask whether the product fits your needs but instead ask how can it be changed to meet your requirements.


Explore features View Technical Requirements Read recommendations Request a demo